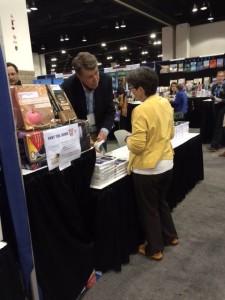 2017 Events
January 26: 88.5 FM KGNU Radio Book Club (www.kgnu.org/author/kgnu/)  9 AM.  Kevin Wolf will discuss THE HOMEPLACE with Arsen Kashkashian, head buyer, of the Boulder Bookstore.
January 28:   "A Corpse, A Clue and A Culprit" Local mystery authors discuss their work.  Westminster College Hill Library. 2-3:30 PM.  (http://www.ci.westminster.co.us/Libraries/Programs/Adults)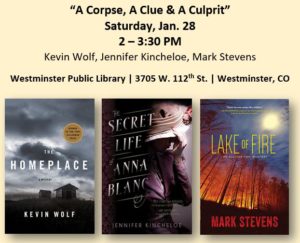 April 7-8:  The Octavia Fellin Public Library in Gallup, NM will be hosting its Annual Author's Festival .  The festival will be in celebration of National Library Week.  It will bring together regional authors to present their works and have the opportunity to speak about their experiences.
 April 29: Colorado Authors League Fiction finalist readings at Tattered Cover, Colfax Store; 6PM
May 5: Colorado Authors League Award Banquet
July 12-13: Thrillerfest, NYC
August 1: Boulder County Fair; Regional Authors' Readings; 11AM-4PM
August 1: Littleton Mystery Book Club; Barnes and Noble, Wadsworth and Bowles; 7PM
September 8-10: Rocky Mountain Fiction Writers Gold Conference
September 21: Covered Treasure Bookstore Art Hop; Monument, CO; 5-8PM
October 24: Release Date for BROKEHEART